Cable fault and test system vans
THE WORLD'S MOST MODERN AND POWERFUL CABLE TEST VAN SYSTEM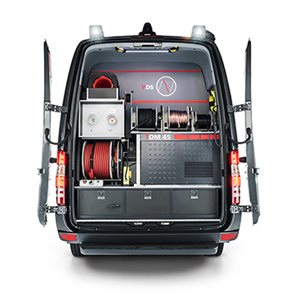 Intuitive easyGO® operation using a touch display
System powered by Li-Ion batteries
Highest standard of safety with SafeDischarge technology
Remote control of important system functions
Cable diagnosis with 50 Hz slope technology
Breakdown phase detection for three-phase cable testing
Centrix 2.0 is the world's most modern and powerful cable test van system for fast, easy and non-destructive fault location up to 33 kV.
Equipped with the latest generation of cable diagnostics in conjunction with powerful VLF testing technology, Centrix 2.0 makes it possible to perform standard-compliant cable testing with accompanying partial discharge diagnosis.
MODULAR SYSTEM FOR FAULT LOCATION, TESTING AND DIAGNOSIS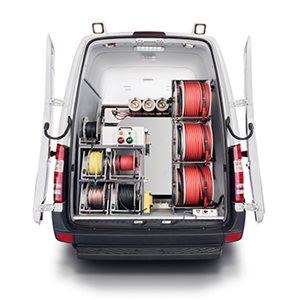 Expandable modular design
High reliability thanks to redundant system architecture
easyGO® user interface
ARM® multi-shot pre-location
Powerful 0.1 Hz VLF test up to 18 uF
Autonomous operation with Li-Ion battery power
With the new Variant series, Megger provides a fully equipped measuring station for all VDE-compliant cable testing and fault location on PVC, PE, VPE and paper-insulated cables in the voltage range up to 33 kV. Heavy extension reels come installed so they can be easily extended. Electronic components are in place so that testing and calibration can be easily performed from the control room.
Test van systems for fault location
Whether you are working on-site, in the countryside or an urban environment, having the right equipment available when conducting fault location operations is vital. When the correct tools can be accessed easily, fault-location time speeds up dramatically, and faults can be dealt with more efficiently. Megger's range of cable test vans offer solutions to the challenges of fault location in the real world, no matter the environment. Our test van systems have been developed in collaboration with end users to ensure that they live up to the standards of daily fieldwork. Our vans are designed to be adaptable to the end users needs so that the most appropriate tests may be carried out for the cable in question, regardless of whether it is low, medium or high voltage.